6.19.2012 | It started with a bookstore closing in 1997, a serendipitous find, and a map-maker who apparently doesn't mind lugging a lot of books from apartment to apartment. The book, New York City Market Analysis, published in 1943, was a treasure trove of gorgeous and intricate maps of New York City neighborhoods, originally intended for advertisers and others hoping to sell their wares. When he spied it on the shelves back in 1997, urban planning student Steve Romalewski knew he had a find. He bought it on the spot.   
With color-coded, block-by-block analyses of rents, a now-quaint description of residents ("with a mixed foreign and American population, with Italian predominating"), housing stock ("the less pretentious type"), and businesses ("stores are of poor quality and …depend solely upon the particular foreign trade to which they cater"), the book would sit on Romalewski's bookshelf for 15 years. Until this spring, that is, when the Census Bureau opened the vaults to the 1940 census data.
By that time, Steve was the director of CUNY Mapping Service and a member of the Center for Urban Research team at the CUNY Graduate Center. When the Census Bureau released the 1940s data, Steve and his team at CUR pulled out the book and went to work– a lot of work– coupling the two sources and bringing the maps and analysis to life. The result is "Welcome to 1940s New York"– a rich resource that reveals how much things change in a city and nation, and how much they don't. (See the side-by-side photos of streets in 1940 and today for a glimpse of both.)
The website displays a map of New York divided into the 116 neighborhoods. You can:
move your mouse over the map to highlight the 1940 neighborhood names compared with current areas;
click on the map to display a high-resolution scanned version of each neighborhood profile;
select any of the scanned pages from the 1943 document(including city- and borough-wide maps); and
zoom in on the photos and color-coded neighborhood map to see the images in great detail.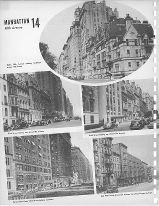 A snapshot of Central Park West in 1943, for example, shows a true mix of rents. Monthly rents ranged from $30-49 for apartments between Columbus / Amsterdam and 94th/W 72d.  A few blocks east along the park, rents more than tripled to $150 and up. ($30 in 1942 is the equivalent of $492 today, and $150 is $2458 today.) The population, at 152,614, was larger than Salt Lake City at the time.
"A large population of medium income… gives this section considerable purchasing power," wrote the market analysts. "Proof of this is shown by the number of retail outlets of all varieties that flourish within its boundaries. Broadway, with its stores, restaurants, theaters, and banks is quite important locally as a shopping area. The higher income group lives in large apartment buildings or private homes along Central Park West, West End Avenue, and Riverside Drive. On the side streets are a number of rooming houses catering to a good class of residents. Outstanding attractions in the district are the Museum of Natural History and the Hayden Planetarium."
This look back at New York City on the heels of the Depression and before the war reveals a city as a living, changing thing. The neighborhoods ebb and flow with different ethnic groups, shifting from a largely white, European blend to a more diverse mix of groups, and with them the changing storefronts and restaurants. Trees grow taller, buildings are razed to build public housing or a high-rise.  Even our language shifts, from imperious to more inclusive.
The parents and young adults who are captured in these statistics and photos are largely dead and gone today. The children are grandparents.  Yet New York, and cities like it across the country, live on. This fascinating  project is testament to that continuity.
Photos from the New York Times and the Center for Urban Research